Film Winners 
Grand Prize

– Dear Aunt Noa by Dana Aliya Levinson & Michael Armstrong Barr
$100,000 (in-kind) One-year of international film distribution from Lonely Seal Releasing, ($50,000), a dedicated custom page hosted on our website for 12 months, showcasing the film and filmmaker(s), complete with monthly updates, trailers, ($12,000) and SEO, ($18,000), targeted marketing to cinema buyers at Cannes in May 2020 ($10,000) and four months of strategic advice ($10,000).
Best Feature Film

– Alternate Ground, by Daniel Groom
$20,000 – (in-kind) A showcase and targeted marketing to worldwide cinema buyers at Cannes ($10,000) and four months of strategic advice ($10,000).
Best Documentary

– When All That's Left is
Love, by Eric Gordon
$20,000 – (in-kind) A showcase and targeted marketing to worldwide cinema buyers at Cannes ($10,000) and four months of strategic advice ($10,000).
Best Female Filmmaker

–  Rachel S. Thomas-Medwid,  Squirrels in the Attic
$20,000 – (in-kind) A showcase and targeted marketing to worldwide cinema buyers at Cannes ($10,000) and four months of strategic advice ($10,000).
Best Short Film

– For A Better Life, by Yasmin Mistry
$20,000 – (in-kind) A showcase and targeted marketing to worldwide cinema buyers at Cannes ($10,000) and four months of strategic advice ($10,000).
International Awards
Best International Feature

– Justice For All, by  

Anusha Kaede

 
$20,000 – (in-kind) A showcase and targeted marketing to worldwide cinema buyers at Cannes ($10,000) and four months of strategic advice ($10,000).
Best International Documentary

  – My Blood is Red, by Various, Carly Bryant
$20,000 – (in-kind) A showcase and targeted marketing to worldwide cinema buyers at Cannes ($10,000) and four months of strategic advice ($10,000).
Best International Short Film

– After Class, by Charles Xiuzhi Dong
$20,000 – (in-kind) A showcase and targeted marketing to worldwide cinema buyers at Cannes ($10,000) and four months of strategic advice ($10,000).
Film Accessible Awards
Best Film Accessible Feature Film 

– DE Documenting Depression, by Francisco Matias
$20,000 – (in-kind) A showcase and targeted marketing to worldwide cinema buyers at Cannes ($10,000) and four months of strategic advice ($10,000).
Best Film Accessible Short Film

– Strive, by Aamir Ali
$20,000 – (in-kind) A showcase and targeted marketing to worldwide cinema buyers at Cannes ($10,000) and four months of strategic advice ($10,000).
Audience Awards
Narrative Feature Audience Award – 

Alternate Ground – Daniel Groom
$20,000 – (in-kind) A showcase and targeted marketing to worldwide cinema buyers at Cannes ($10,000) and four months of strategic advice ($10,000).
Documentary Audience Award

– DE: Documenting Depression by Fransisco Matias
$20,000 – (in-kind) A showcase and targeted marketing to worldwide cinema buyers at Cannes ($10,000) and four months of strategic advice ($10,000).
Short Film Audience Award

– Dear Aunt Noa by Dana Aliya Levinson & Michael Armstrong Barr
$20,000 – (in-kind) A showcase and targeted marketing to worldwide cinema buyers at Cannes ($10,000) and four months of strategic advice ($10,000).
Screenplay Winners
Best Feature Screenplay

Blind Justice by Ramona Taylor
Blind Justice is an incredibly touching historical drama. In 1912, a young, uneducated Black girl, Virginia Christian, was accused of murdering her abusive white boss. The trial made national news and stirred concerns for racial unrest across the nation. No one would come to Virgie's defense except George Washington Fields, a blind former slave who was the first Black person to graduate from Cornell Law School. Inspired by real events.
Taylor began screenwriting as a hobby in 1996.  Since that time, she has become a published writer, produced screenwriter and an award-winning filmmaker.  In 2008, the micro-budget horror film, Camp DOA, she penned for Birmingham-based Magic City Films, screened at the Pan African Film Festival.
Best Short Screenplay

Emma's Garden by Kelly Phelan
Emma's Garden is a story of nine-year old twins and their journey into building stronger self-esteem after the death of their beloved grandmother.  They are guided on this thought provoking and fun-filled adventure by Buzz; a talking and singing bee coach and mentor. The magical garden has many garden dwellers and they all assist Emma and Chuckie in learning.
Kelly Phelan has a degree from NYU and a master's from USC specializing in screenwriting. She is also an award-winning toy industry manufacturer's rep responsible for selling millions of dollars of toys and children's books in the Los Angeles area.
Best Script Accessible Feature Screenplay (tie)

ADD Em Up by Robert J. McCrea & Kenneth Simmons, Jr.
Payton Jr. High in Chicago has instituted a new program for special ed kids with learning disorders especially Attention Deficit Disorder (ADD). Five students enrolled by their parents or guardians for this program come from various backgrounds and ethnic groups. JOSIE is a tough Italian girl from the West Side being raised by a social worker. She is an outstanding basketball player but her main goal is to someday be adopted and have loving parents of her own.
Education: BA History – Lewis University Masters of Public Administration – Governors State University Studied screenwriting and film at Northwestern University and the Chicago Learning Resource Center. Film screenplays include the theatrical feature "Find Me Guilty" directed by Sidney Lumet, and starred Vin Diesel and Peter Dinklage.

The Flid Show by Richard Willett
Duncan Mowbray is an English nightclub singer born with flipper-like arms because his mother took the drug thalidomide. He lives with his sister, earning a paltry living with an act in which he sings only songs from 1962, the year of his troubled birth. Despite his obsession with the time period, Duncan wants nothing to do with anything that defines him as a "flid," especially a group that's pestering him to sing at a candlelight vigil to commemorate the drug, which caused an epidemic of malformed births around the world.
Richard Willett was born in Hollywood but grew up in Vancouver, Canada. He spent several years as a playwright in New York City before returning a few years ago to Los Angeles. He is an optioned screenwriter currently working on his sixth paid writing assignment. His screenplays THE FLID SHOW and 9/10 were semifinalists in the Nicholl Fellowships competition (top 50 out of more than 7,000). Other honors include an Edward F. Albee Foundation Fellowship; a Tennessee Williams Scholarship; grants from the Alfred P. Sloan Foundation, the Arch and Bruce Brown Foundation, and the New York State Council on the Arts (among others); designation as a finalist for the PAGE International Screenwriting Awards and the Sundance Screenwriters Lab and a semifinalist for the Austin Film Festival Screenplay Competition; and showcasing with a featured screenplay in the IFP Market in New York. His stage plays have been presented off-off-Broadway and at theaters across the country, and TRIPTYCH, 2B, and THE FLID SHOW have all been published by United Stages.
Best Script Accessible Short Screenplay

Donna On The Go Go, (Mama) by Peggy Lane
I want to tell stories that haven't been told. Donna On The Go is a show I created about my friend Donna Russo. Donna uses a walker or wheelchair and still dances. I haven't seen a show where the LEAD character has a disability.
Music Winners
Best Song – The Widow by Terry Blade
$20,000 – (in-kind) A showcase and targeted marketing to worldwide cinema buyers at Cannes ($10,000) and four months of strategic advice ($10,000).
Best Music Video
– She by Adele Thomas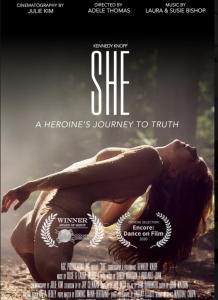 $20,000 – (in-kind) A showcase and targeted marketing to worldwide cinema buyers at Cannes ($10,000) and four months of strategic advice ($10,000).
Feature Screenplay Finalists
Andromeda by Nicki Chaput
Andromeda is a border security guard on Inara, a fantasy version of our world filled with monsters and anthropomorphic animals, who dreams of one day visiting Tero, the human world. An unlikely human visitor and a manhunt rife with corruption and organized crime gives her a taste of Tero that might be more than she was asking for.
Nicki Chaput is a student currently enrolled at Colby College in Waterville, Maine where she is studying English, Cinema Studies, and East Asian Studies. Currently based in Des Moines, Iowa, Nicki is interested in writing for animated films, series, and possibly video games. Nicki has had a lifelong love of mythology and folklore and incorporates mythological creatures and archetypes into her fantasy, horror, and science fiction stories.
Mars is Ours by Cliff Paris
Robotic Engineer and reluctant astronaut Robert Macey desperately wrangle his family by engaging a remote robotic device to replace him while he is off to Mars. His ship tragically eliminates all other humans from onboard when he also discovers world war III has begun.
The River WINs by Matthew Amorebello
Hat.  Boots.  Rod.  That's normally all that's required, but today is a little different for George O'Ryan. O'Ryan is an aging fisherman, who has spent most of his life on the river.  He reveres the art of fly casting, viewing it as a religion more than a hobby.  Everything he sees on the river reminds him of critical moments in his life, which are revealed in flashbacks.  The day he rescued his child's mother.  Her unfortunate death.  Raising his son as a single father.  Trips to the river serve to provide food and recreation, as well as remembrance of the past.
Matthew Amorebello writes short stories and screenplays.  Works include "The Stigmata of Miramont Castle".  He grew up in Pennsylvania, where he earned a BS and MD degrees from Temple University.  Matthew currently lives in Colorado with his wife and two children.
Taffeta by Heather McNama & Nancy Nyman
Alex Donner's life is a mess. She's sinking in debt. Her coffeehouse job doesn't pay enough. And her relationship with girlfriend Kate – well, let's just say lesbian bed death is alive and well. So when Alex discovers her brother Brian – an uber-successful, self- professed ladies' man – in the shower with Kate, she's devastated. Kate and Brian confess they've been seeing each other for months. They profess their love for each other and decide to marry.
Nancy and Heather are currently staffed on the CBS half-hour comedy CALL YOUR  MOTHER. Most recently, the writing duo completed the comedy feature Taffeta. In  2017, they landed a spot in Outfest Film Festival's prestigious Screenwriters Lab. On  the TV side, the pair sold a foster-oriented project to The Disney Channel, wrote the  half-hour comedy Other People's Kids based on their own experiences as foster  parents, the hour-long drama pilot Social Work, a spec of Elementary, and their Parks &  Recreation sample landed in the top six scripts at Austin Film Festival. Their play,  Resolution, which received its world premiere in Chicago in 2016, won the award for  Best Script with Pride Film & Plays and was nominated for Chicago's prestigious Jeff  Award for Best New Play.
My Name Is No One by Fernando Rendon
Fiercely passionate but shyly naïve, Bartholomew Fitzpatrick IV is the son of a politician running for Congress. Bartholomew's only goal is to proudly carry the Fitzpatrick name by getting into Whitehill, the prestigious university his whole family has attended.
Dive by Erin Foreman
Left reeling after his twin suddenly drowns at the end of the summer, a swimmer turned cross country runner struggles to get through his senior year of high school without falling in love with his dead brother's secret crush.
Erin Foreman is a recent graduate of New York University's Tisch School of the Arts, specializing in screenwriting and sports editing. She spends most of her time screaming at the New England Patriots and Boston Bruins, but occasionally writes dramatic coming-of-age stories exploring
the intersection of mental health, representation, and sports. Her scripts have been recognized by several festivals, including selections at the Woods Hole Film Festival and the Rhode Island International Film Festival. In conjunction with CBS Sports, Erin's post-production work has been broadcast during primetime SEC and NFL games, as well as March Madness. Erin is currently based out of Boston, Massachusetts while she pursues her MBA.
Alta California, by Elliot Lynn
ALTA CALIFORNIA is set in the Mission Era in California, which was, the beginning of the demise of the indigenous peoples of California.
I continue to teach and write. I live with my wife, Dani, in Chico, California.
Firebird by Kathryn Machi
When gifted, spirited Cherokee scholarship ballerina Ruby Lightfoot, 17, wins a prestigious grant to dance the Princess role in a flamenco Firebird in the South of France, her beloved grandmother (who raised Ruby) gives her a blessing and a sacred red-tailed hawk feather: "Everything has purpose; everything is connected." But to Ruby's consternation, her rowdy, ex-rodeo star father insists on chaperoning her — with his own agenda: to find Ruby's long-gone mother and bring her home to Oklahoma.
San Francisco screenwriter Kathryn Machi, MFA, helms ViviLu Productions where she creates upbeat, culturally diverse, and gynocentric stories for international audiences ages 10 to 110. A holistic arts master practitioner and instructor, she is also an erstwhile dancer with a special passion for Indigenous Contemporary Dance. An enrolled member of the Cherokee Nation and a dual U.S./French citizen, Kathryn has two adult children
and lives with her husband on the foggy western edge of the City.
How To Be Dysfunctional After Divorce by Erin Keefer
After a divorce, a single mother with writer's block is forced to work at her ex-husband's diner and come up with some creative  ideas to keep her house, all while navigating dating, her manic parents, and lesbian best friends.
ERIN ELIZABETH KEEFER has worn many hats so far, having been an actor, music associate, digital product manager and screenwriter. She has enjoyed traveling to some of the far corners of the world with experiences like riding elephants in Phuket, barely escaping a bat cave in Thailand, climbing Mount Fuji and playing Black Jack in Monte Carlo. Born in Newport Beach, she grew up mostly between the mountains of California and the wooded trails of New Hampshire. After graduating from the University of Virginia, she lived in New York City and Los Angeles until 2009. She currently resides in Florida, where she spends the best part of her days chasing her energetic sons and dogs around. On the weekends, you'll likely find her boogie boarding, shark's tooth hunting, huffing and puffing on the Peloton, and working on her ping pong skills.
Little Things Mean a Lot by Micheal Monteith
The truly unique story of pretty Kitty Kallen, including her rise from humble origins to most popular U.S. singer, is revealed amid news of her untimely death.
After retiring from a 35-year career in Corporate/International Taxes, Michael Monteith decided write a screenplay about the remarkable life of American singer Kitty Kallen, titled "Little Things Mean a Lot."
Michael had a personal connection to Kitty Kallen in that his mother had been her childhood friend. To
date, "Little Things Mean a Lot" is Michael's only screenplay.
Hopi & Chaynge by Cliff Zimowki
A Hopi Indian clan abduct a Conservative TV/Radio host and bring him back to their reservation to perform purification ceremonies in order to make him help stop an oil pipeline that is set to run through sacred land.
Cliff Zimowski has been working in Films and TV for about fifteen years.  He has won several screenplay awards and has been a semifinalist and quarterfinalist in the prestigious Nicholl Fellowship.
Ridin' on Duke's Train – CCC by Mick Carlon and

Ken Kimmelman
Told in flash-back, RIDING ON DUKE'S TRAIN is about ten-year-old Danny Bolden, an African-American boy living in the backwoods of Georgia with his beloved Granny, in the mid 1930s. Danny loves music and is learning to play the trumpet. His life is suddenly and dramatically changed when his Granny dies, and he is left an orphan.
One of the greatest challenges in keeping jazz alive is introducing its most famous artists to children. The music programs in public schools rarely delve into jazz history, and music appreciation classes are usually only available to high schoolers. English teacher Mick Carlon may have found a solution to this problem with his jazz-themed novels for young adults. He is a thirty-year veteran English and journalism teacher at the high and middle school levels, and the author of the middle-grade novels Riding on Duke's Train, Travels with Louis and Girl Singer. He is a frequent contributor to Jazz Times.



Happy Night, by Deirdre Allen Timmons
A suicidal woman meets a serial killer and the two must plot, un-plot, re-plot, and un-plot again, who will do the deed in this dark comedy by Deirdre Allen Timmons.
Script 

Accessible Feature 

Screenplay Finalists 
Halfway Home, by David J Schroeder
When a catastrophic accident causes an athlete to become paralyzed, and all seems to be lost, he finds redemption in the most unlikely place, with a gaggle of colorful characters in a halfway house for the mentally disabled.
True Story. NINETEEN 'Best Screenplay' awards.
Born in the small-town of Gloversville at the foothills of the Adirondack Mountains in Upstate New York, David Schroeder was forever imprinted with its beauty. At 18, a paralyzing spinal cord injury in a diving accident resulted in a long accomplished journey beginning in Miami, Florida and the University of Miami where he wrote his thesis under the direction of Nobel Laureate, I.B. Singer and earned a M.A. in American Literature. Immediately after, he took a position at Miami-Dade College, where he worked with Charles Willeford (MIAMI BLUES) and presently, he is a full professor teaching composition, creative writing and screenwriting. In 2001, he received the Peter H. Clayton Endowed Teaching Chair for teaching excellence. Since, he has studied 42 post-graduate courses in screenwriting with professors Tom Musca (STAND & DELIVER) and Paul Lazarus (ON GOLDEN POND) at the University of Miami.
The journey also included 13 medals in the National Wheelchair Games, a world record in the wheelchair marathon, a six-time member of the US Disabled Sailing Team, and circum-navigating Manhattan in a kayak. Free-lance writing included magazine features, technical writing, and most recently screenwriting.
Schroeder won the Golden Palm Award presented by Jon Voight at the 2013 Beverly Hills Film Festival – "The BHFF awards the Golden Palm to a screenwriter that possesses extraordinary writing ability and a deep understanding of structure, premise, characters, and dialogue. We want to feel the heart of the story beating, be swept up by its driving force; we want to see what's at stake and feel so compelled with the story that it's virtually impossible to stop reading it."
He has won 'Best Screenplay' 63 times for 6 different scripts since 2010.
He produced his award winning short screenplay, THIS MODERN MAN IS BEAT, directed by Alex Merkin (ACROSS THE HALL), and featuring Jordi Vilasuso and Sheena Colette. THIS MODERN MAN IS BEAT world premiered in London at the Raindance FF, and won the Jury Award in the 2016 Nice IFF (106 Best Awards, 20 countries).
Physical Therapy Massacre, by Nate Woogen
A paralyzed teen investigates the dark secret behind a physical therapy gym as her disabled friends are picked off one by one.
Secret Library, by Laurel King
It's Christmas Eve, 1896, when three children at a holiday party enter the basement of a law firm, stumbling upon the hidden doorway to labyrinthine tunnels. Curious, they explore the tunnels and discover a huge library.
Screenwriter, photographer (of nature), mother of five (grown!) awesome people, grandmother of seven hilarious little people. Proud U.S. Army veteran who traipsed all over the world and still lived to tell about it. Great sense of humor; thrilled to learn new things.
Published writer of a bunch of stuff: screenplays, stage plays, hundreds of articles, websites, short stories, and books on a wide array of topics. Spent a bunch of years earning professional experience in writing, editing, and proofreading. Produced a wide range of written material, including: published academic journal writing, historical research, how-to books, legal articles, marketing materials, screenplays, stage plays, and fiction in numerous genres.
Earned a BA in English and survived two years of law school (with the still-unpaid student loans to prove it!) Couldn't afford that last year.
My legal skills include tons of drafting and research of motions, pleadings, memorandums, and briefs. My academic and business writing skills include proofreading, editing, creative writing, website content, technical writing, copywriting, and research. Basically, if you need something written, I can probably do it (or already did).
Hit me up if you need high-quality writing of any kind (except math, I'm awful at that). LOVE suspense, thriller, horror, mystery genres.
Short Screenplay Finalists 
Portrait of a Mexican Poet In Iowa City by James Fitzmaurice
This rom-com-with-zomb TV pilot starts from and develops the template of the three-season HBO series "Bored to Death" (with Ted Danson). In the Mexico/Iowa series, a young Mexicana poet wins a scholarship to the Writers Workshop in Iowa City. The year is 1963 and she meets Raymond Carver (actually in Iowa City then) when both are taking a class from Kurt Vonnegut, Jr (actually teaching there). The two young creative writing students fall for each other, but she is a cultural Catholic and he married. She is innocent and sweet, but not always. He is a rat, but not always. Serious examination of love, marriage, and infidelity. Zombies provide background satire of academe. Set half in Mexico City and half in Iowa. Target ages 20 – 35.
James Fitzmaurice, Emeritus Professor of English at Northern Arizona University, Honorary Research Fellow in English at the University of Sheffield, United Kingdom. A dozen stage plays and screenplays including "Barack Obama Remembers a Young Poet" and "Margaret Cavendish, Virginia Woolf, and The Cypriot Goddess Natura" (latter performed in Nicosia at the CVAR Museum in April of 2017). Producer – "The Farce of the Fisherman," performed in Nicosia at the CVAR Museum in March of 2018. Took part in a table read and the pitch festival in Oaxaca, Oct 2019. Can get around in the Spanish language. Able to travel.
Pre-retirement activities: Post-doctoral Fellow, Yale University 1983; Guest Professor, University of Tuebingen, 1986; Senior Visiting Research Fellow, Gonville and Caius College, Cambridge University, 1996.
The Lonely Rose, Michael Gonzalez, Cati and Mike Gonzalez
After being healed and brought back to life by a farm worker, a baby rose plant finds it's way into the heart of a young girl suffering from severe depression.
'm a independent film producer, video editor and first-time screenwriter from New York City. My first Independent Film 'Ekaj,' which I co-produced and edited, went on to screen at 65 Film Festivals worldwide. During it's Festival circuit run in the years of 2016 to 2018, garnering 29 awards and several nominations. The film is signed with Los Angeles distributor, Indie Rights and was officially released worldwide in 2017.
I also worked as the editor on the award winning 2017 short documentary 'Angels in Our Hood' which is about the stories of the mothers in Chicago that lost their children due to gun violence. And Associate Producer to the indie film project titled, 'The Mount' which is being produced by London based studio, Apofena Incarna in 2020.
My first feature film screenplay 'Raised,' was nominated for "Best Urban Feature Drama" at the 2019 Oaxaca Film Festival's (Global Script Challenge X.) It also made it as a "Finalist" to the 2019 Hip Hop Film Festival's (ACT UP! Screenwriters Showcase,) "Semi-Finalist" at the 2019 Big Apple Film Festival, "Finalist" at the 2019 Ermantourage's (Industry Next Diversity Film & Screenplay Contest) and "Semi-Finalist" at the 2019 Your Script Produced Screenplay Competition.
High Function by Ava Provolo
This is the pilot of High Function, a mockumentary television series that follows Maria, a neuroses-filled, anxious 24 year old, and how she navigates her mental health while living at home with a completely "normal" family.
Ava Provolo is a junior at Mount Holyoke College studying English and Spanish. She is passionate about writing comedy for television and showcasing underrepresented stories in a comedic fashion. She is a poet, a musician and adores the restorative quality of a long walk.
Dire Consequences by Joe Leone
A call center employee seeks deadly revenge after being fired. A co-worker steps up to save her colleagues from imminent danger. However, we find out that the co-worker is fighting her own internal demons.
Viola, by Rosa Nagle
Viola, a teenaged girl, uncovers family secrets that reveal her true, frightening nature to herself.
Rosa Nagle is a Boston playwright and screenwriter. She is Italian-American.
The New Plague by Colleen Randolph
In the near future, when global pandemics are a yearly occurrence, Emily awakens to the sound of the community warning siren. She trundles off toward the local quarantine facility, running into her aesthmatic friend, Peggy, along the way. Both girls expect Peggy to be sorted into the high risk quarantine block, but shortly thereafter Emily again runs into Peggy, this time in the low risk block cafeteria. As the sickness spreads through the low risk block and Peggy's inhaler begins to run out, the girls become desperate to find Peggy a doctor before it is too late.
For me, it's all about storytelling. The creation of new worlds and the reimagining of this one is powerful. I feel the most creative and the most alive when I am telling a story. I stumbled into screenwriting when I took a wrong turn on the road to becoming a novelist and I have no regrets. As my screenwriting abilities have evolved, the pull of creativity has remained steadfast.
Zapped! by Philip C. Sedgwick
An astronomer sharing backyard observations of the center of our galaxy has a run-in with mosquitoes, and a not so trusty bug zapper.
In Your Dreams, by

Arteta Stephane
Noah, 11, flees his gloomy life by taking refuge in the reading of Molière's plays and his dreams. In his imaginary world, he involves two of his classmates who fascinate him. And tries to escape the "beast" pursuing his family.
Script Accessible Short Screenplay Finalists 
Into The Light by Przemysław Stańsk
Lucious, an elderly man, spends his nights switching off the lights that were left on by the inhabitants who, for reasons unclear, completely abandoned the city. One day, a little, deaf girl starts turning them on again. Lucious, harassed by a videocalls form mysterious boss, tries to turn the newly appearing lights off, but the places he visits seem to remind him of a brighter past. He starts to learn the sign language and decides not to pick up the calls from the boss.
Feature Film Screenplay Semi-Finalists 
Blue Jay Singing In The Dead Of Night, by Dale Griffiths Stamos
BLUE JAY SINGING IN THE DEAD OF NIGHT is the story of JAY JARRELL, a once-popular disc jockey from the late 60s, early 70s FM "Freeform" radio who finds himself in 1976 navigating the changing world of FM radio with its market-driven strict playlists and minimal talk.  On top of that, he's been relegated to the graveyard shift and to working with an engineer, MAX, who is determined to squeeze him into the all-gloss, no substance mold of the new FM DJ.  Jay and his colleagues at the radio station struggle against these new realities, each choosing his or her own path through the challenge.  Jay must ultimately make a difficult choice between hanging on to his career and holding on to his artistic integrity.
Dale Griffiths Stamos is an award-winning playwright, author, and screenwriter. She has written six short films (all of which have been produced and have been official selections at multiple film festivals, garnering two audience and two jury awards).  She has penned three feature-length screenplays:  Blue Jay Singing in the Dead of Night,  One White Crow and Philosophy of the Heart. Blue Jay Singing in the Dead of Night has been named a semi-finalist in the New York City International Screenplay Awards, StoryPros International Screenplay Contest, Flickers Rhode Island International Film Festival, and Lonely Seal International Film, Screenplay and Music Festival. One White Crow has been named a finalist in Script Summit 2020, a semi-finalist in the Creative World Awards, and The New Hope Film Festival; and a quarter finalist in the Los Angeles International Screenplay Competition.  Two of her comedy short screenplays have been accepted into the Portland Comedy Film Festival, the Houston Comedy Film Festival, and the Austin Comedy Short Film Festival (where she won "Best Romantic Comedy Screenplay.") Dale's short and full-length plays have been produced around the country and she is the recipient of the Heideman Award from Actors Theatre of Louisville, and a top-ten winner, twice, in the Writers Digest Stage Play Competition.
The Jar Keeper by Kerry Muir
When a young musician embarks on an unconventional journey to save her father's memory, she's forced to come to terms with a few life-altering memories of her own.
Kerry Muir's plays have received awards from Nantucket Short Play Festival, Great Platte River Playwrights Festival, Maxim Mazumdar and New Play Competition.  Kerry is a graduate of Vermont College's MFA in Writing  program.
Pick by Bernhard Riedhammer
After his wife's death, a neurotic workaholic must find the will to live again, in order to take care of his son and a teenage punk girl, who suddenly appears on his doorstep.
Bernhard Riedhammer is an award-winning screenwriter  with a passion for drama and comedy. With several years of experience as a screenplay editor, he is formally educated with a BA in Screenwriting and an M.Litt. in Film Studies from the University of St. Andrews. He loves to write about real-life issues, anything that touches the heart and soul, while making the audience crack up.
This Is The Last Time by Jeff Bretl
Young gay man JAY BODEN, 23, immerses himself in the excitement of  New York City but he quickly realizes something stands in the way of his finding love and living a happy, fulfilled life. Intercut between Jay as a young gay man in NYC and his difficult childhood in Wisconsin, the story of adult Jay and ADOLESCENT JAY run on parallel tracks.
Jeff Bretl is the founder of Bretl Collaborative, Inc., a company with over 20 years of experience conceptualizing, directing, producing and editing commercials and brand videos for fortune 500 clients.  Formerly an executive vice-president and group creative director at Grey Advertising, he is a graduate of the University of Wisconsin with a BFA in advertising design.  His post-graduate work incudes studies at NYC's School of Visual Arts and New York University's Film Certificate Program.
Oradour, by Vaughn Roste
When the Nazis start massacring civilians in their peaceful village, a shy teenager finds himself leading a group of wounded civilians in their quest to survive. The true story of Oradour-sur-Glane, France – June 10, 1944.
Camouflage, by Christopher Willis
A top-secret American unit uses inflatable tanks and phony artillery barrages to divert German resources away from actual Allied forces. Many in the unit are well suited to their mission of deception having lived in the shadows of homosexuality all their lives. Inspired by real men.
Tags, by Stephen Glickman
A young woman abandons her dying mother to free laboratory animals; capturing the world's attention and forever changing the vivisection industry (based on real events).
To Verdict by Carlos Candal
In 2012 there were 68,884 civil cases pending in litigation in Connecticut courts. Of those, only 284 resulted in a jury verdict. "To Verdict" is based on the true story of JOSE VARGAS (52), a family man, father of six kids and a loving husband. Everything changes when Jose goes for his daily bike ride and is struck and killed by distracted driver.
ORSON by Jared Egol
"A dying Orson Welles is haunted by Unicron, the Transformers character he voices in his last role."
Jared Egol studied Creative Writing at the University of Florida with the intention of entering medical school. He instead went on to Chapman University, where he received his MFA, studying under Julie Kirkham, Tom Mankiewicz, Larry Gross and Ron Friedman, who later hired Jared to assist in the writing of his memoir: I KILLED OPTIMUS PRIME. Jared is repped by Derrick Eppich of Empirical Evidence.
Coop by Joe Leone
A young track star (Gabriel Gonzales) with Olympic aspirations and a very promising future, loses his legs from the knees down, in a tragic car accident. His Mother, concerned with her son's well-being, takes Gabriel to an animal shelter that rescues beaten and abused animals. A Golden Retriever, named COOP, grabs his attention. Inspired with the "never quit / never say never" attitude that Coop exhibits, and a recommendation from his Orthopedic Specialist, Gabriel looks into acquiring Blade Prosthetics that will allow him to run fast, very fast, once again. Along with his High School Track Coach (Gene Sanderson) and a dog that is full of life and spirit, they aid Gabe in pursuit of his Olympic dream at the 2028 Los Angeles Paralympics.
Joe Leone is an American Screenwriter with over 125 film festival/screenplay competition selection/awards in more than 10 countries. His additional experience includes nearly 6 years as a Marketing Coordinator for Paramount Pictures Motion Picture Marketing Administration and as a Story Analyst for Prelude Pictures and Kamin & Howell Entertainment. While attending Chapman University in Orange, California, he produced an award winning student film, which was purchased and distributed by Pyramid Films (Santa Monica, CA).
Don by Alberto Battistutti
Flashing back to 1940, we meet Rinaldo before the war, his friend Mario, his wife Eleonora and Mario's wife Vittoria. They live simple lives as farmers and railroad workers in a quaint Italian mountain village. After news of the war reaches them at home, Mario is conscripted while Rinaldo, having already served in Africa, remains home. That is, until things become desperate on the front and the army begins enlisting older recruits as well. Rinaldo reluctantly leaves behind his peaceful life, bound for the Russian Front.
I'm a writer born and raised in a small town in the northeast of Italy, where I live with my wife and two little girls. In addition to a degree in mass communication, I have a background in journalism and screenwriting. While during the day I work in the field of Marketing, in my spare time I enjoy writing, inspired by my father in search for the truth about his father during World War Two. With "Don", a feature drama screenplay set on the icy Russian front and based on the true story of my family, I have won more than forty international awards. My writing is focused on human values like friendship, hope and perseverance, and my favorite genres are drama, thriller and sci-fi.
The Seduction of Auntie Rose  by Alpha Blair
As a free-spirited young woman helps her conservative grandaunt gain the courage to seek her ideal love, she finds her own.
Alpha Blair is a produced playwright and award winning screenwriter in Los Angeles, CA. She feels art enables the growing conscience of society to be expressed in peaceful means – and loves creating unique, substantive stories with mainstream entertainment appeal. She has won or placed highly in major screenplay competitions, including the Action On Film, Burbank, Irvine, Lonely Seal, and New York Los Angeles International Film Festivals, the International Family Film Festival, HolyShorts, Scriptapalooza, the Nicholl Fellowships, and Telluride IndieFest. She is also featured in The Top 100 Indie Writers In The World Part 1, an interactive Apple Book by Del Weston and Theresa Coscarelli that reveals the creative processes of twenty-five independent screenwriters. For more info on Alpha's work, awards, and adventures pursuing a career in Hollywood, please visit her website at www.alphablair.com.



Erased, by Camille Huot & Ambrealys
From skilled criminals to misfit government agents, Elizabeth, Lolita, Katarina and Avah must dodge both terrorist bullets and political games to earn back their freedom.
Four highly skilled female criminal are given a choice : a life sentence or serve their country in a secret anti-terrorist unit.
East Bay Inc. by

Darryll DiPietro

 
East Bay Ink is a gritty, grimmy coming of age story. Set in the pre-tech San Francisco Bay Area in the early 2000's, we follow "Dave", an aspiring artist attending art school. Dave is struggling with balancing school, work and life and his peers are doing everything to hurt him. He must choose between his friends and his career.
Short Film Screenplay Semi-Finalists
The Breathing Moon, by Jeffrey Morin
A father in Italy tells his two children a story of the Breathing Moon, in the night, in his bed, as the moon peers in through the French doors of the balcony. The haunting sound of breathing weaves it's way through the bedroom as the evening folds. The Breathing Moon leaves behind hope as the story concludes.
Two-Bed Terrace With Original Features by Cathriona Slammon
"Two-Bed Terrace with Original Features' is a silent psychological drama in which a single mother struggles to deal with an impending eviction, facing a loss far greater than the precious memories her home contains.
A Close Thing by Demitra Papadinis
Gigi, an aging widow, finds joy in helping others. She volunteers at a local mission where she assists needy people such as Hank, a homeless loner who cares for a stray dog that haunts a back alley.
When authorities shut down the soup kitchen and impose strict isolation orders, all three find themselves hungry and vulnerable. In a world where closeness is illegal, they save each other's lives through the very act of coming together.
Fugitives from Memory by Lisa Gray Fisher
A summertime bus ride turns deadly when English professor Mary Cardon is reunited with her mentor, Sol Walker, whose memory is failing, and the driver Gus Mercer, an acquaintance who is now a violently disturbed vet. The ride morphs into a war zone after Gus reveals that his mother was killed earlier that day, and relationships explode into shrapnel, fracturing identities and realities.
Lisa Gray Fisher's short screenplays have won awards in various competitions, as did a stage play of hers. Her most recent novel, Memory's Fire, serialized online and via podcasts, is enjoying a very warm and lively reception. See summerwoodpress.com for chapters and more information.
The Decision by Joan Philo
A battered farmwife leaves her fate to the searing climb of mercury, a predetermined temperature, and the hands of God in the heat wave of '08.
Joan Philo is writing, I swear. She is not casting the extras for Chicago Fire and Chicago Med, right now (totally watch NBC Wednesday nights, she totally cast those shows!), as she is writing. Sure, sure, she has cast the extras for "The Dark Knight" and "Nightmare on Elm St", written and produced multiple sketch comedy pieces as a graduate of Chicago's Second City Comedy writing program, and has crisscrossed the US casting and working with David Lynch, Rupert Wyatt, Michael Mann, and other legendary directors—but the pulse of her very being is entrenched in the world of writing. Recipient of short script wins, Best Writing, Top Five, First Heat Winner, and GAIA award, and winning Best Comedy Script and Most original script for feature script, "Scoot". A member of Max Adam's 5150 professional screenwriting forums, and a proud graduate of her Academy of Screenwriting.  She is the creator and writer of The Darling Series greeting card line a greeting cards for show people: www.thedarlingseries.com. She also is crazy about her Irish roots and Irish step dancing. She owns the "Sketch House", a building in Little Village, Chicago, where when it is not being rehabbed it is plotting spectacular comedy shows and teaching moments, as the future home to all that is creative in "story" with Joan Philo.



Montana by Julia M. Sauder
In rural Montana, Joanne purchases the home where she spent her summers with her grandparents. Through flashbacks, we see a Joanne as a 9 year old playing with fireflies. The adult Joanne meets Todd working on a hay baler and befriends him. Back to Joanne's past, we think that her Nana has passed, but it's really her brother, Joey. Joanne blames herself for Joey's death. Todd persuades her to confront her past.
New Jersey native Julia M. Sauder has been writing and creating stories since she can remember. After graduating from New York University's Tisch School of the Arts, she spent five years on the West Coast working in film and television. Due to an illness, she moved back to the East Coast. Determined not to be kept down by her chronic disease, Julia has continued to write through the years focusing solely on screenplays. Although she writes in many genres, horror comes most naturally to her and is her favorite.